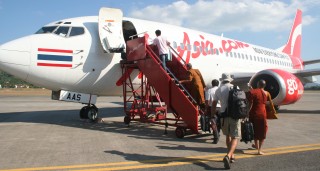 Nice to know we were flying with monks....
Greetings from Bangkok, notorious capital of Thailand! The city that doesn't stop. I feel like my legs are going to fall off, and I haven't even been here 4 hours! Of course, maybe I should count myself lucky for actually arriving here. At the airport in Langkawi we went through the gate, out onto the pavement, and there were 4 planes to choose from. Singapore, Phuket, Kuala Lumpur, and Bangkok. Free seating on at least 2 of them, and they didn't check tickets at all. Of course the one bag we checked (seeing as we wanted to take knives, razors, etc) would have ended up here.
Anyway. Bangkok. Massive city. The sky line goes forever. The taxi to the hotel took almost an hour and not once did we go through anything I'd call a suburb. And the taxi fare was 250 baht, about $9. Woohoo. The hotel's back in a bit of an alley but otherwise (as far as I can tell) it's right in the middle of downtown.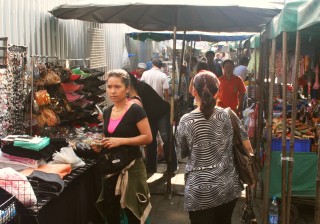 Not much room left on the sidewalk...
Dinner cost 35 baht per person (Just over $1) at a funky little dive where the menu was not meant for any English speakers whatsoever. Another 15B (so expensive!!!) got me a scoop of ice cream.
After that we walked for ages around the streets. It was great. The malls – all 50 or so of them – were mostly closed but the streets were alive. Venders selling anything from T-shirts to food to shoes to phones to jewelry to everything. And the clothes. Blouses, jeans, skirts, kimonos, dresses, socks… it would have awesome to go shopping but it was fun enough just looking!
[ Previous ]
[ Shooting Stars ] [ Bali Cremation ] [ Thai Journal ] [ Passage Blues ] [ Sri Lanka Journal ] [ Night Watch ] [ Feydhoo Walk ] [ Madagascar Journal ] [ Thailand Landfall ]
Top Level: Home | Destinations | Cruising Info | Underwater | Boat Guests | Ocelot | Sue | Jon | Amanda | Chris | Site Map | Make a Comment
---
Lifetime
Commodores
of the
Seven Seas
Cruising
Association

If our information is useful,
you can help by making a donation
Copyright © 2000‑ Contact: Jon and Sue Hacking -- HackingFamily.com, svOcelot.com. All rights reserved.