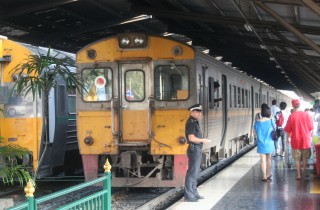 The Bangkok train station - the hub of the city
Train ride to Chiang Mai, a city with a real moat and walls. Long day, 12 hours on that rattling contraption which didn't even attempt to lull you to sleep. One meal ("lunch"), two "coffee breaks." Nothing for the last 5 hours of the trip.
We saw lots of villages, suburbs, and rice fields. Cows. Went through some forest as we went over a hill. Then more rice fields and huts. Chris and Mom saw elephants walking along beside the track.
I read too much. Listened to music. Pondered life. No sleep.
Arrived here in the dark. We expected a hassle from the taxi drivers – the owner of the guest house warned us she didn't give commissions to taxi drivers and therefore they didn't like to drive there – but no problem. Probably paid too much, though. The guest house rooms are primitive but not bad. There's only a fan, but the climate here is splendid at night. The toilet has a seat, but requires a bucket flush. And I had a hot shower. It was wonderful after a day of air-con.
Dinner was good, a little place 4 blocks from the Chiang Mai Garden Guesthouse. I wasn't very hungry, but the watermelon shake and fried rice (flied lice) was yummy.
I'm so tired...
[ Shooting Stars ] [ Bali Cremation ] [ Thai Journal ] [ Passage Blues ] [ Sri Lanka Journal ] [ Night Watch ] [ Feydhoo Walk ] [ Madagascar Journal ] [ Thailand Landfall ]
Top Level: Home | Destinations | Cruising Info | Underwater | Boat Guests | Ocelot | Sue | Jon | Amanda | Chris | Site Map | Make a Comment
---
Lifetime
Commodores
of the
Seven Seas
Cruising
Association

If our information is useful,
you can help by making a donation
Copyright © 2000‑ Contact: Jon and Sue Hacking -- HackingFamily.com, svOcelot.com. All rights reserved.