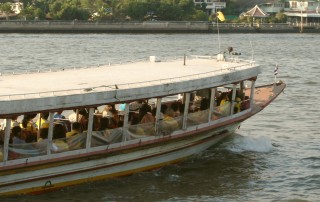 Chao Praya River ferry underway
Happy Valentine's Day! It's strange, Bangkok has a 10pm curfew tonight for teenagers under 18, to "prevent them having sex on Valentine's Day," says the police chief or someone. Have you ever heard anything so random? But I didn't have to worry; home and in bed by nine! (yeah, okay, it's lame…)
Man, if I walked myself dead yesterday, I don't know what I did today. Walk, walk, taxi, walk. First to a couple malls, to print some documents and try to unlock Chris's phone – an exercise in futility. This turned into an almost-impossibly-spicy lunch. Then to the US Embassy to notarize said documents, and the post office to mail them home. Ice cream and a SIM card for Chris – if only it actually worked properly – along the way.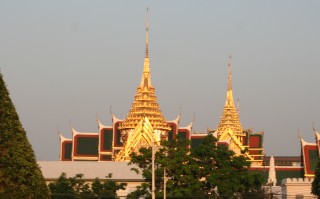 Evening light on the Royal Palace, Bangkok
We spent the late afternoon on the river, riding the express ferry back and forth. Quite fun, actually, and rather cheap – 13B per person for 1 hour. The river skims Chinatown and a few suburbs, but the most interesting was the 'temple district' near the old Palace. Temple is 'wat' in Thai – What a lot of wats! And beautiful in the afternoon sunlight.
Dinner was near Chinatown, but on what I have to call Indian Restaurant Street. There were at least five. The one recommended to us was hidden down a dirty alley, with an outside kitchen and a toilet you couldn't stand up in. But the place was clean and cute and air conditioned and the food was outstanding! Apparently it's so full in there at lunch time that it's not worth going, but it was nearly empty for us. Empty and delicious and I'm sure we'll be talking about that meal for months to come.
[ Shooting Stars ] [ Bali Cremation ] [ Thai Journal ] [ Passage Blues ] [ Sri Lanka Journal ] [ Night Watch ] [ Feydhoo Walk ] [ Madagascar Journal ] [ Thailand Landfall ]
Top Level: Home | Destinations | Cruising Info | Underwater | Boat Guests | Ocelot | Sue | Jon | Amanda | Chris | Site Map | Make a Comment
---
Lifetime
Commodores
of the
Seven Seas
Cruising
Association

If our information is useful,
you can help by making a donation
Copyright © 2000‑ Contact: Jon and Sue Hacking -- HackingFamily.com, svOcelot.com. All rights reserved.