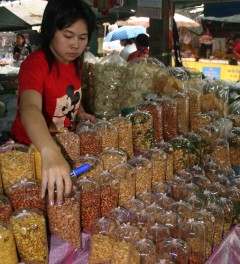 Bubble-packed snacks in Chiang Mai
Welcome to Chiang Mai! I'm writing this on the 18th because for some reason I fell asleep last night. Fancy that – falling asleep after a day of walking around a city.
Chiang Mai is smaller than Bangkok, and it certainly seems it inside the moat. No room for expansion! (we later learned that most of CM is outside the moat) Anyways, we set up a tour with Pissamorn (owner of the guest house) to do a 3-day "trek," starting Monday. Two days to kill. So we set out walking, without a particular destination in mind. Thought of renting bikes, but no shop had more than 3. Thought of renting a car, but decided to do that tomorrow. So we walked about ¼ of the perimeter of the moat, doing another ¼ later. Had lunch. Stopped to see some wats. Not watted out yet!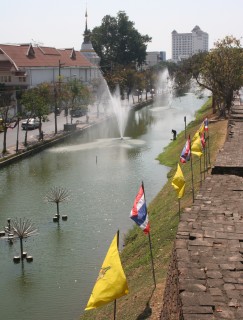 A view of the moat from the wall
After lunch we split up – the boys to the internet café, to do whatever boys do, and Mom and I to a travel agency. We booked flights Chiang Mai > Bangkok and Bangkok > Hat Yai, on the south border. Leaving the night we get back from trekking, with a day in Bangkok to see the tiger temple. Going home so soon! But we have to leave time to get Chris to Sri Lanka, no matter what the weather's doing.
We rented a car this evening for tomorrow, once Dad found a place that would give it to us full of gas.
Dinner was 'northern style' Thai cuisine, which bore no resemblance to 'normal' Thai cuisine, and was quite bizarre. And spicy. And, for the sake of accuracy, not very good. The bananas in coconut were very good, though. The other dessert we got (to TRY…) was labeled as 'black jelly in syrup.' I decided it was, in fact, jellied motor oil.
[ Shooting Stars ] [ Bali Cremation ] [ Thai Journal ] [ Passage Blues ] [ Sri Lanka Journal ] [ Night Watch ] [ Feydhoo Walk ] [ Madagascar Journal ] [ Thailand Landfall ]
Top Level: Home | Destinations | Cruising Info | Underwater | Boat Guests | Ocelot | Sue | Jon | Amanda | Chris | Site Map | Make a Comment
---
Lifetime
Commodores
of the
Seven Seas
Cruising
Association

If our information is useful,
you can help by making a donation
Copyright © 2000‑ Contact: Jon and Sue Hacking -- HackingFamily.com, svOcelot.com. All rights reserved.