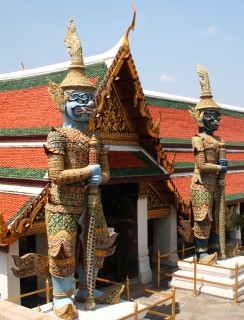 Guardians more than 10m high
Wats, wats, wats! Gold, enamel, museums, tourists. Buddhas. And more gold. My back is killing me – at least I don't have to walk tomorrow. Mom and I took a tuk-tuk to the train station this morning and bought tickets to Chiang Mai for tomorrow morning. 14 hours in an air-con car. Yay. Actually the tuk-tuk tried to take us to a "TAT approved" travel agent across the street from the train station, who said it was much better to take a bus – also much more expensive, and he could book us!!! …no thank you.
After brekkies we went to the (old) royal palace. Went to the museum there and saw heaps of gold and gems – amulets, belts, coins, jewelery. Crowns. Royal spittoons and betelnut boxes. Gold tunics. Rings the size of my thumb. Length wise. The royal family is quite wealthy, I'm thinking.
The wat in the palace was fascinating too. A giant mural ran around the perimeter, depicting basically all of Thai history… up to a point, of course. Statues of giants guard the entrances. Gilt chicken-people stood around the temple, too. And inside, the Emerald Buddha reigned supreme. It's actually made of solid jade, but for the longest time people just thought it was a normal Buddha. Someone had cased it in plaster, but one day that plaster chipped, revealing the beautiful green within. They thought it was emerald at first, and the name stuck. Sadly, it's not as unique as it probably once was. Three other places throughout the city I saw green Buddhas sitting on shrines. I can only think that they're copies made from something much more mundane than jade.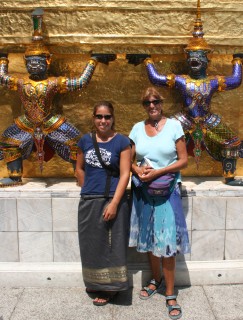 With Mom, inside the Palace area
What else did we see? A weapons museum, first with different swords, pikes, knives, halberds, and other implements for chopping peoples heads off or slicing them like cheese. And then there was one with ancient (and not-so-ancient) pistols, rifles, shotguns, and such from all over the world. The German ones were distinctive, for some reason.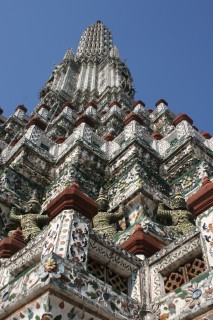 Wat Arun from below
Outside the palace, across the river, is Wat Arun, which is said to have a great view of central Bangkok. Well, you can't get up the steps anymore, but it's a nice wat in its own right. It has 3-headed elephants riding out of it some 100 feet up.
And the Reclining Buddha, in another temple near the palace. It's probably 100 feet long and covered in gold leaf. The soles of his feet are inlaid with mother of pearl, in hundreds of different Buddhist motifs.
Walking back to the hotel we saw some Thai dancing, rather by accident, for free in a park. It's rather similar to Bali and other parts of Indonesia – docile girls with their winnowing hands, dipping and swirling, etc.
It was rush hour by that time. No taxis wanted to use their meter, because they'd spend a lot of time sitting in traffic for nearly no money. So we finally bargained and got one to take us to the Siam Center, which is only a couple blocks away from our hotel. There we bought books, ate dinner at the "Oldies Café" with a real, functioning juke box playing old classics of my childhood, contemplated seeing a movie, and bought more books.
Tomorrow we go to Chiang Mai. Hello early start. Good bye Bangkok!
[ Shooting Stars ] [ Bali Cremation ] [ Thai Journal ] [ Passage Blues ] [ Sri Lanka Journal ] [ Night Watch ] [ Feydhoo Walk ] [ Madagascar Journal ] [ Thailand Landfall ]
Top Level: Home | Destinations | Cruising Info | Underwater | Boat Guests | Ocelot | Sue | Jon | Amanda | Chris | Site Map | Make a Comment
---
Lifetime
Commodores
of the
Seven Seas
Cruising
Association

If our information is useful,
you can help by making a donation
Copyright © 2000‑ Contact: Jon and Sue Hacking -- HackingFamily.com, svOcelot.com. All rights reserved.